Pricing Your House Right Still Matters Today
While we may not be in the same frenzy as the 'unicorn' years, it's important to recognize that well-priced homes are still commanding swift sales and multiple offers in the current market landscape. The scarcity of available properties continues to fuel demand. According to the National Association of Realtors (NAR), an impressive 76% of homes found buyers within a month, and in June alone, the average property attracted 3.5 offers.
To position yourself advantageously within this dynamic market, a real estate agent's expertise is indispensable. Only they possess the acumen required to accurately determine the ideal listing price for your home. Here's why getting the pricing right is paramount and what's at stake if you miss the mark in today's market.
The price you set for your house sends a message to potential buyers.
Striking the right balance is crucial. Setting the price too low could inadvertently cast doubts on your home's condition or raise suspicions about underlying issues. Additionally, undervaluing your property might leave you with diminished bargaining power in the future, impacting your financial prowess.
On the flip side, a steep price might discourage potential buyers from even considering a tour. This could lead to a stagnant listing that requires a subsequent price reduction, potentially signaling concern for some buyers. It's a delicate dance, as NerdWallet aptly puts it:
"Your house's market debut is your first chance to attract a buyer and it's important to get the pricing right. If your home is overpriced, you run the risk of buyers not seeing the listing . . . But price your house too low and you could end up leaving some serious money on the table. A bargain-basement price could also turn some buyers away, as they may wonder if there are any underlying problems with the house."
Hitting the Bullseye: Pricing at Market Value
Think of pricing as a precision target. Your aim is to hit the bullseye – not too high, not too low, but aligned with market reality.
Fair pricing aligned with the market's pulse attracts a wider pool of interested buyers, often leading to multiple competitive offers. Quick sales remain a hallmark of well-priced homes. To get a high-level look into the potential downsides of over or underpricing your house and the perks that come with pricing it at market value, see the chart below: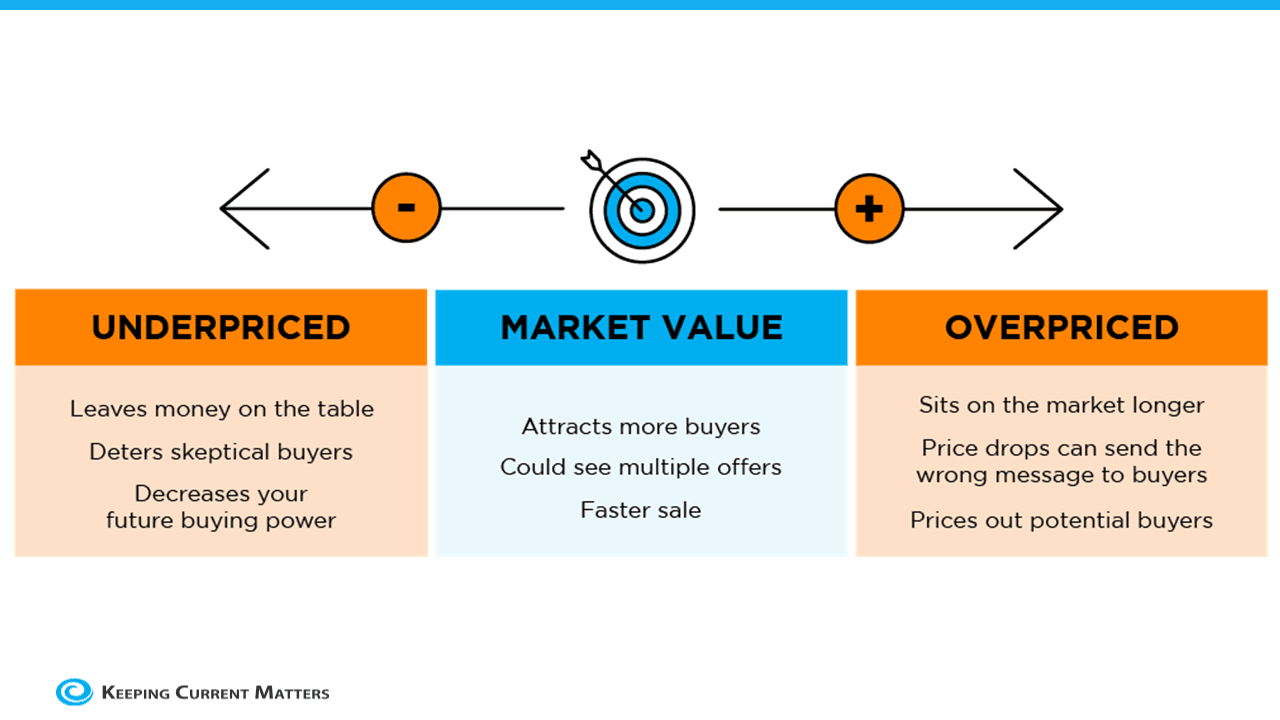 Lean on a Professional's Expertise to Price Your House Right
So why is an agent essential in finding the right price? Your local agent has the skill and the insight necessary to find the market value of your home. They'll use their expertise to determine a realistic listing price by assessing:
The prices of recently sold homes

The current market conditions

The size and condition of your house

The location of your house
Don't Play Guessing Games with Your Home's Value.
Partner with one of our trusted real estate agents to ensure your listing resonates with today's market. Their expertise, backed by a free home valuation, can be the deciding factor between your house sitting stagnant or sparking a flurry of interest and offers. Get your free home valuation today!
https://florostone.com/home-valuation