Why You Shouldn't Fear Today's
Foreclosure
Headlines
We've all heard about a surge in foreclosures in the housing market and there's no denying that it can be quite scary. News like that may even cause you to reconsider buying a home out of fear of a price drop. However, data indicates that a foreclosure crisis is not on the horizon, and to help you better understand the truth of what is going on we have some information for you.
The Year-End 2022 U.S. Foreclosure Market Report from ATTOM states that while filings are up 34% from 2019, they are up 115% from 2021. It's more crucial than ever to put that figure into context as media headlines seize on this 115% spike.
Foreclosure filings compared to last year
While the number of foreclosure filings did more than double last year, we need to remember why that happened and how it compares to more normal, pre-pandemic years in the market. Thanks to the forbearance program and other relief options for homeowners, foreclosure filings were down to record-low levels in 2020 and 2021, so any increase last year is — no surprise — a jump up.
"...foreclosure activity remains significantly lower than it was before the COVID-19 pandemic. It seems clear that government and mortgage industry efforts during the pandemic and a strong economy have helped prevent millions of unnecessary foreclosures…" - Rick Sharga, Executive VP of Market Intelligence at ATTOM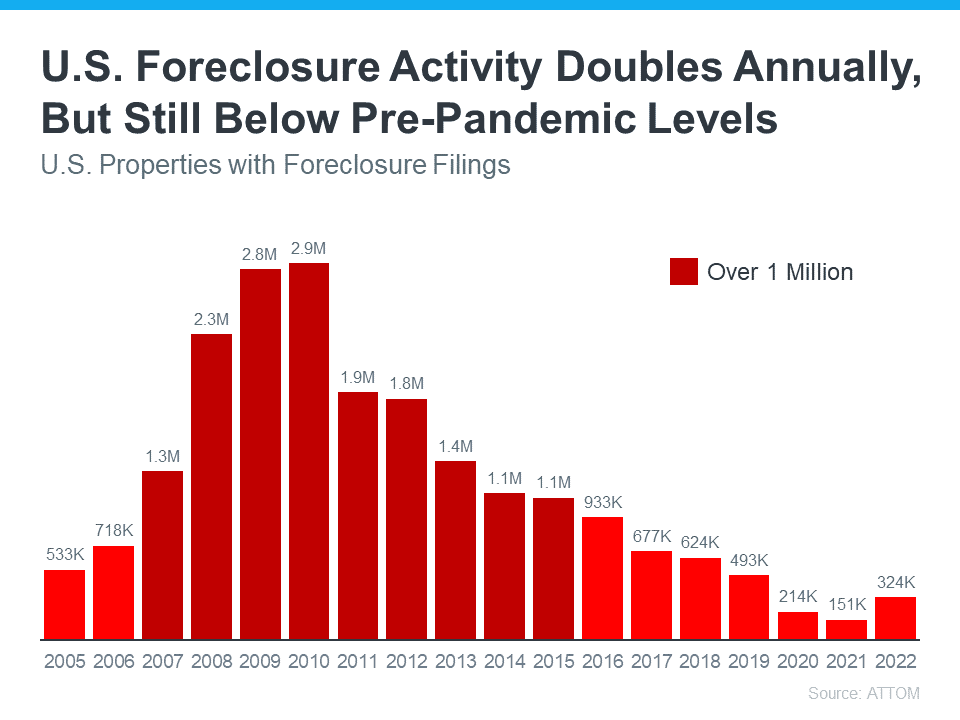 So, while foreclosures are rising, keeping perspective in mind is critical. As Bill McBride, Founder and Author of Calculated Risk, noted recently:
"There will be an increase in foreclosures over the next year (from record low levels), but there will not be a huge wave of distressed sales as happened following the housing bubble. The distressed sales during the housing bust led to cascading price declines, and that will not happen this time."
Right now, putting the data into context is more important than ever. While the housing market is experiencing an expected rise in foreclosures, it's nowhere near the crisis levels seen when the housing bubble burst, which won't lead to a crash in home prices.