Unlocking the Wealth-Building Power of Homeownership
Are you contemplating the prospect of becoming a homeowner in today's real estate market, but are concerned about factors like rising mortgage rates and home prices? While these are valid considerations, it's crucial to broaden your perspective and explore the long-term advantages of homeownership.
Imagine this: if you know individuals who purchased homes 5, 10, or even 30 years ago, chances are you won't find many who regret their decision. Why is that? The answer lies in the way home values appreciate over time, effectively bolstering your personal wealth. This could explain why a recent survey by Fannie Mae revealed that a remarkable 76% of respondents view buying a home as a secure investment.
Now, let's delve into how the appreciation of home prices can significantly impact your financial outlook over the years.
Home Price Growth over Time
The following map, based on data from the Federal Housing Finance Agency (FHFA), highlights the substantial price gains witnessed over the past five years. To provide a more nuanced understanding, the map is segmented by regions to illustrate broader market trends: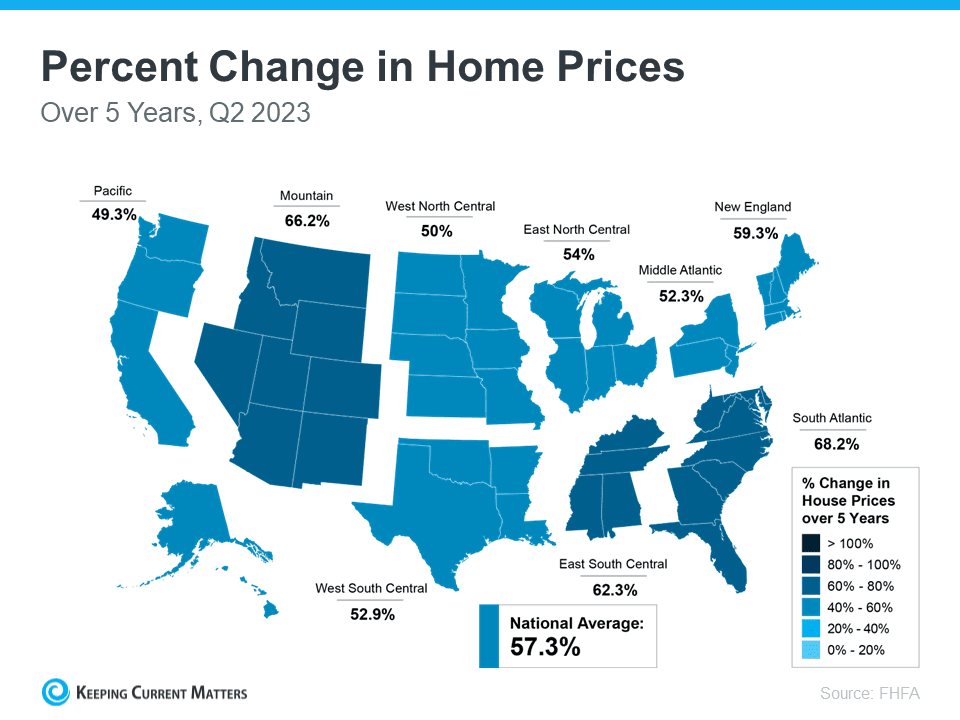 Examining the percentage change in home prices, we observe an average nationwide increase of just over 57% in the span of five years. While some regions slightly deviate from this average, overall, home values have experienced robust growth in a relatively short timeframe.
Now, let's extend our timeline further to illuminate the enduring benefits of homeownership and the remarkable wealth accumulated by homeowners (see the next map):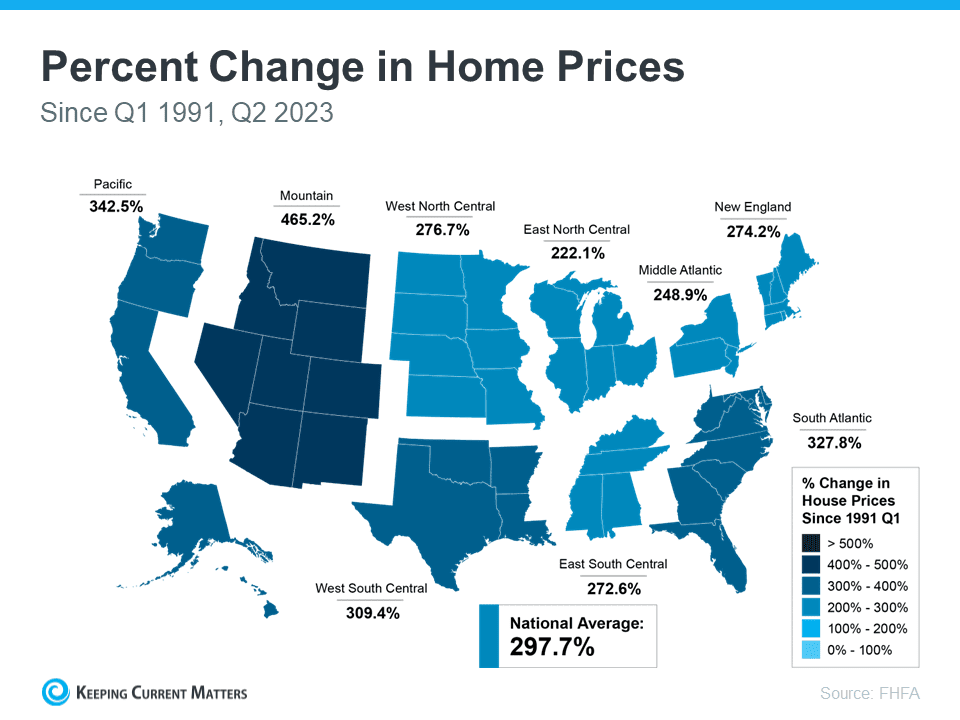 This second map indicates that, on a national scale, home prices appreciated by an average of over 297% over approximately three decades.
This nationwide average demonstrates that a typical homeowner who invested in a house 30 years ago witnessed their property's value nearly tripled during that period. This significant wealth accumulation is a primary reason why so many homeowners who made their purchases years ago still express contentment with their decision.
Furthermore, despite speculation about an impending housing market crash, the reality has been quite different. Experts project that home prices will continue to rise for the foreseeable future.
Bottom Line
If you're wondering if it still makes sense to buy a home today, it's important to focus on the long-term advantages that come with homeownership. When you're ready to take that step, we encourage you to reach out to a local real estate professional who can guide you through the process and help you unlock the wealth-building potential of homeownership.
Free Consultation with Real Estate Experts